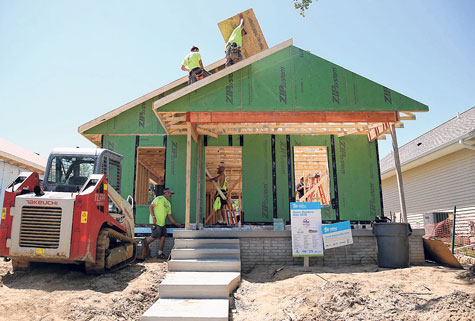 Many local builders and volunteers will participate in the upcoming Home Builders Blitz, a partnership of the Greater Cedar Rapids Housing & Building Association and the Cedar Valley Habitat for Humanity, a local affiliate of the international nonprofit, dedicated to providing affordable housing for qualified families.
The two groups have partnered on the Builders Blitz every other year since 2012, quickly building 11 new homes in the Cedar Rapids area.
This year, the Home Builders Blitz will look a little different, but Cedar Valley Habitat for Humanity and the Greater Cedar Rapids Housing & Building Association will persevere. With the effects of the derecho still fresh in Cedar Rapids, many home builders have been diverted to repair missions. Between this and continued concerns over COVID-19, hands will be limited for new construction.
In contrast to historical Home Builders Blitzes, the homes will not be completely finished in five days, but the Oak Hill Jackson neighborhood will nevertheless witness a transformation. With the help of lead builders Jerry's Homes and Jim Sattler Custom Homes, four brand new homes will be built by the end of October. This speed build will allow Cedar Valley Habitat for Humanity to continue working on the interiors through the winter, putting four families on a fast track to homeownership.
"As we navigate the landscape of COVID-19, we're proud to say that nothing will get in the way of providing affordable housing," said Kelly Lamb, executive director of Habitat for Humanity. "The blitz is an important part of our mission to build homes, communities and hope. We couldn't do this without the support of the GCRHBA and the amazing community of lead builders, suppliers, laborers, and donors."
"We are proud to continue this partnership with Habitat," said Melissa Olson, executive officer of GCRHBA. "Our members believe in providing homeownership and making a difference in the lives of local Habitat families."