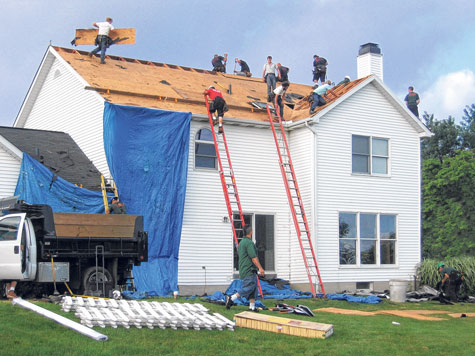 When the derecho windstorm blew through the Midwest on Aug. 10, thousands of Cedar Rapids area homes were damaged.
"We know everyone is anxious to get their homes repaired or replaced as quickly as possible, but it is important for you not to make sudden decisions related to extensive repairs," said Melissa Olson, executive officer of the Greater Cedar Rapids Housing & Building Association. Her general advice: do your homework and be patient.
The Cedar Rapids HBA offers the following advice when hiring a contractor to work on your home.
Watch for these red flags:
Contractors soliciting with flyers in your mailbox or door to door.
Contractors who ask for a signed contract to assess your home's damage or speak with your insurance adjuster. The fine print may bind you to do business with them.
A request for a large downpayment or a bid in the entire amount of your insurance settlement. You should receive a bid without sharing what you are receiving from your insurance company.
Special pricing for a "demonstration project" or for signing a contract today.
Ask these questions:
Can they provide a written estimate. Be wary of a contractor who wants full payment before the job begins or ask you to pay cash instead of a check or money order to the company.
Will they purchase necessary permits, and will the work be inspected? Check with the housing inspection department in your town or city for complete information on what is required.
Do they have a written contract that explains their warranty? The contract should outline the scope of the work, the price, and at what points of completion payment is due.
Ask for proof of a business license, general liability and workman's compensation insurance and a list of client references. Check to see if a contractor is currently registered with the Iowa Division of Labor. Go online to iowadivisionoflabor.gov, look under "Contractor Registration."
Other tips to hire a reputable contractor:
Obtain at least three bids. Be wary of low bids — lowest bid is not always the best.
Verify the company's permanent business address is in this area and not from out of state.
Check the Better Business Bureau's website for a company report or any complaints.
Check to see if they are members of a professional association like the Greater Cedar Rapids Housing & Building Association.
After work is finished, make a final payment only after you have a lien release.
Find a free directory of local, quality contractors on The Greater Cedar Rapids Housing & Building Association's website, gcrhba.org. HBA members live and work in our community and will be here long after this disaster is over.
"An out-of-town contractor may be long gone if the roof leaks next spring," Olson said. "We want to help our community rebuild and recover."